Small Timber Frame Projects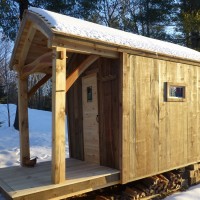 View Project
Hartford, ME: roughly 68 sq ft enclosed, 111 sq ft total footprint
Here at Black Dog Timberworks we were very pleased to take the time this fall to design and craft this uniquely custom Timber Frame Sauna.  After a busy year traveling around the state building timber frame barns & homes we set up shop for a couple weeks to do joinery, raise, enclose, &... >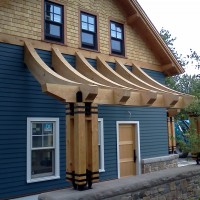 View Project
Scarborough, Maine: NA
We were pleased to have the opportunity to work on this project designed and built by Caleb Johnson Architects & Builders out of Biddeford.  Complementing a variety of other exterior timber work this timber frame carport forms the entry to the garage area.  Built up out of two pieces of... >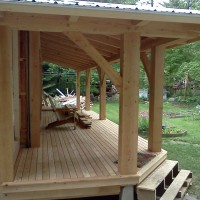 View Project
Norway, ME: 380 sq ft
Dressing up a sharp little cape this farmer's porch replaces a catastrophe of bump-outs and add-ons. 42′ along the long side and 18′ along the short this free-standing timber frame structure will be enjoyed for many years. Framed out of local Eastern Hemlock w/ curved Hemlock... >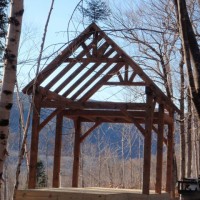 View Project
Andover, ME: 288 sq ft
Set in a spectacular site high on a ridge overlooking the high peaks of Grafton Notch sits this remote 12'x 16′ timber frame cabin.  We raised this frame in one day utilizing an old fashioned block and tackle hitched high in the trees near the site.  Eastern White Pine timbers and... >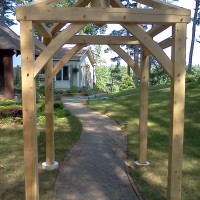 View Project
Denmark, ME: 6'x6' w/ Hip Style Rafters
We were pleased to give one of our custom designed garden arbors a spectacular home on Long Pond in the Lakes region of Western Maine.  Framing an entrance to the footpath leading to the house this arbor creates a visual and physical break from the driveway to the yard and garden areas of the... >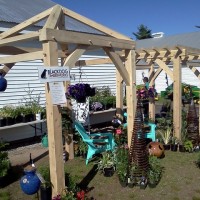 View Project
Fryeburg, ME: NA
Join us the weekend of May 18,19,&20 at the Fryeburg Fairgrounds for the Northern New England Home, Garden, & Flower Show.  We'll be set up in booth #308 in the Forestry building with our Garden Pavilion Show Frame, Live Edge Furniture, as well as outdoor Garden Arbors.... >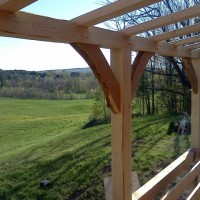 View Project
Turner, ME: NA
After designing and constructing a completely custom 3000 sq ft home, then entry porch, it is only natural that the client have us back to design and build their south facing porch and deck off of the kitchen and dining room.  Site cut and milled Eastern Hemlock and Black Cherry form a rugged... >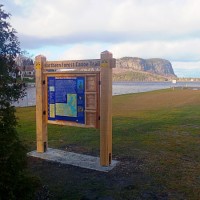 View Project
Rockwood, ME: Northern White Cedar Trail Structure
We are proud to be partnered with the Northern Forest Canoe Trail for the development of Trail Kiosk holding structures in Maine for the 2011 and 2012.  This particular structure is set in Rockwood, ME on the shore of Moosehead Lake in the shadow of Mt. Kineo.  Constructed out of rough-sawn... >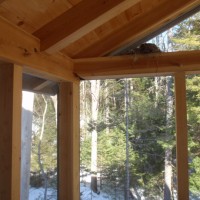 View Project
Brunswick, Maine: Enclosed Screen Porch
This project epitomizes everything that is perfect about a screened in porch.  Set on the woods side of the home next to a small 'ravine' this get-a-way has an almost tree-house feel to it.  Framed of Maine harvested cedar the openings each frame a unique and beautiful view of the... >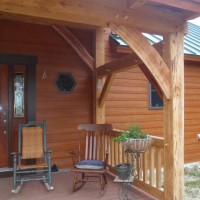 View Project
Turner, Maine: Timber Frame Entry Porch
A place to kick of muddy boots and lounge in the shade on a hot day this porch contains all of the timber frame elements found in the house itself; local wood of varying species, natural form braces, and mortise and tenoned hand rails.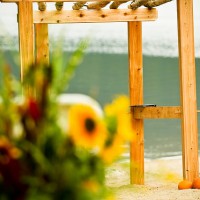 View Project
Hartford, Maine: Wedding Arbor
Built for our wedding day this arbor now stands overlooking our garden to serve as a focal point and resting spot after a hot afternoon of working in the dirt.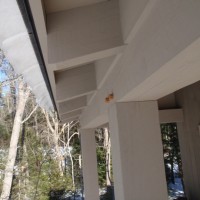 View Project
Brunswick, Maine: 6' X 15' Covered Entry Porch
This simple shed roof porch provides all the essential features of an entry porch.  A place to kick off wet and muddy boots, to store some firewood, and to maybe just sit and admire the wind in the trees on a misty day, an entrance transition is a key design feature.  These hemlock timbers... >
View Project
Scarborough, Maine: Douglas Fir Timber Framed Truss Entry-Way
A nice example of how a simple entry way can really dress up the front of a home as well as give visitors a look at the fine timber framing that is continued on the inside.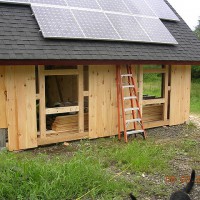 View Project
Waldoboro, Maine: Barn Enclosure
A nice sized garden shed to house both toys and tools also serves as a lower roof to mount the grid-connected solar panels.