Turner, Maine Timber Frame Home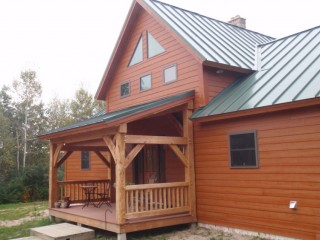 An amazing project from the start, we worked closely with the client of this project to create a one-of-a-kind design. Situated on a knoll overlooking a beautiful river valley sunlight pours into every inch of the open floor plan. The frame is just as unique as the design as it utilizes White Pine, Eastern Hemlock, Red Oak, Black Cherry, Hard and Soft Maple, Ash, and Beech, all selectively harvested from around the building site. The frame is enclosed by Structural Insulated Panels with Radiant Heat throughout.
Project Image Gallery
Other Timber Frame Projects
' .